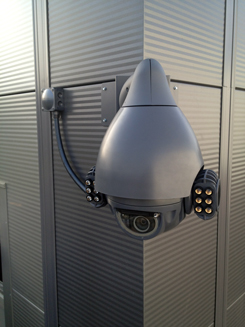 CCTV technology is developing all the time and CSUK are happy to provide the very best the industry has to offer especially in the latest HD 1080p camera's with up to 3 mega pixel images from I.P camera's and TVI HD analogue systems. All surveillance systems are accessible remotely from a smart phone or tablet with an internet connection.
Our systems range from small domestic CCTV installations to large industrial sites covered by several cameras monitored 24 hours a day by our monitoring station, and can be integrated with an intruder alarm to provide signalling and police response. An integrated system may have the intruder alarm and CCTV monitored simultaneously.
Wireless CCTV systems are also a great security solution where area's in different buildings need to be monitored on the same site with no cable routes available between buildings or back to the CCTV controls.
All CCTV installations are complimented with an optional maintenance contract to provide a high quality of after care of the system and security cameras, routine service visits and the use of our engineer call out facility 24 hours a day.









Please see the contact page to arrange a free no obligation quote from one of our experienced surveyors who can visit your premises to discuss your individual needs and provide you with a system design proposal and quotation for your consideration.